Ship of Theseus (Comic #16)
Saturday, August 30, 2014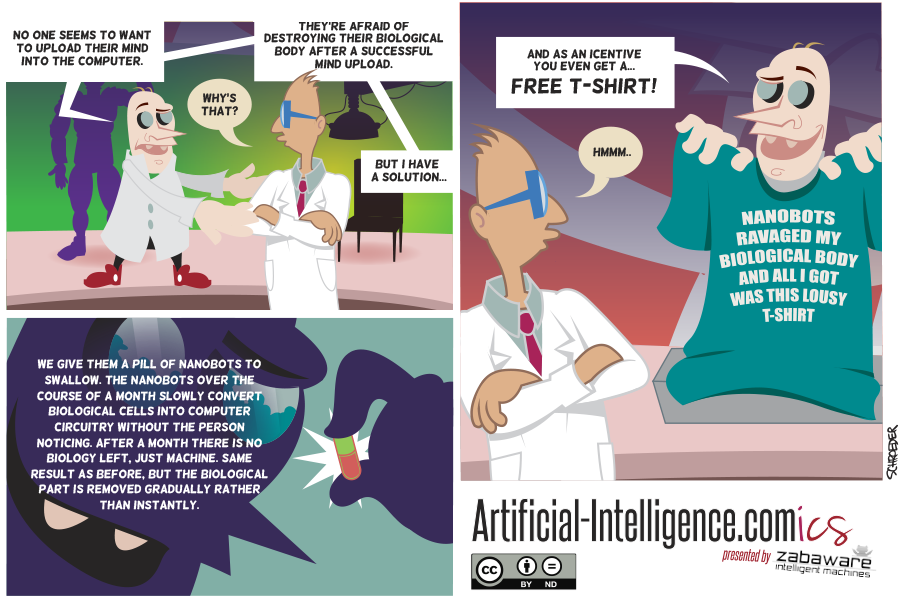 Text Version:
Mad scientist to other scientist: No one seems to want to upload their mind into the computer.

Other scientist: Why's that?

Mad scientist: They're afraid of destroying their biological body after a successful mind upload. But I have a solution.

Other scientist: Oh, what's that?

Mad scientist: We give them a pill of nanobots to swallow. The nanobots over the course of a month slowly convert biological cells into computer circuitry without the person noticing. After a month there is no biology left, just machine. Same result as before, but the biological part is removed gradually rather than instantly.

[Long line of people waiting to get nanobots]
Other scientist: Hmm....

Share This Comic!
Artificial Intelligence Comics
by
Zabaware, Inc.
is licensed under a
Creative Commons Attribution-NoDerivatives 4.0 International License
. This means you have our permission to reprint or share this comic without asking our permission, as long as its unaltered.