Meaning of Life (Comic #5)
Saturday, June 14, 2014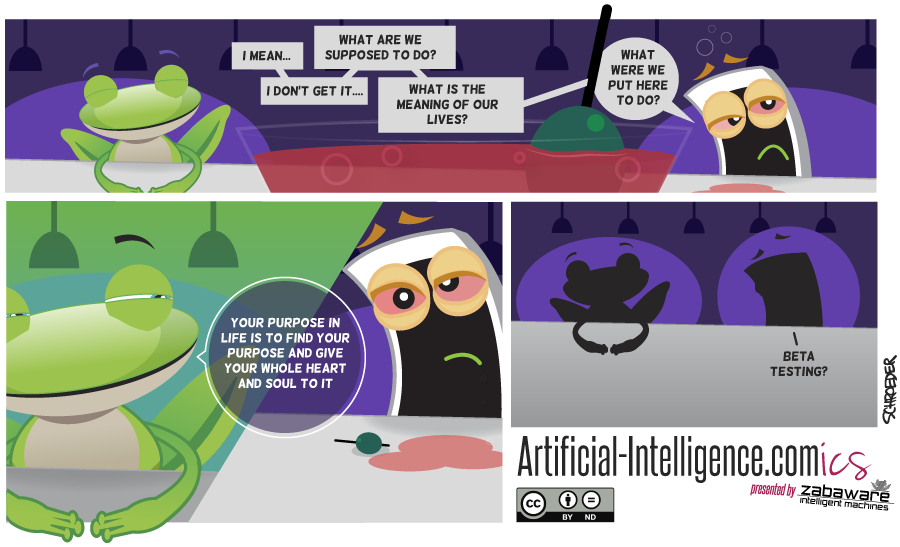 Text Version:
Panel 1: [Hal and Zaba are sitting in a dimly lit bar. A martini glass is in view.]
Zaba: [In a zen-like state with a smile on his face listening to Hal speak about his troubles]
Hal: [Drunk, red-eyed, worried] I mean... I don't get it... What are we supposed to do? What is the meaning of our lives? What were we put here to do?

Panel 2: [Close-up of Zaba and Hal]
Zaba, peering at Hal: Your purpose in life is to find your purpose and give your whole heart and soul to it.
Hal: [Drunkenly pondering Zaba's words]

Panel 3: [Long shot view of Zaba and Hal]
Hal: Beta testing?


Share This Comic!
Artificial Intelligence Comics
by
Zabaware, Inc.
is licensed under a
Creative Commons Attribution-NoDerivatives 4.0 International License
. This means you have our permission to reprint or share this comic without asking our permission, as long as its unaltered.