Social Awareness (Comic #10)
Friday, July 18, 2014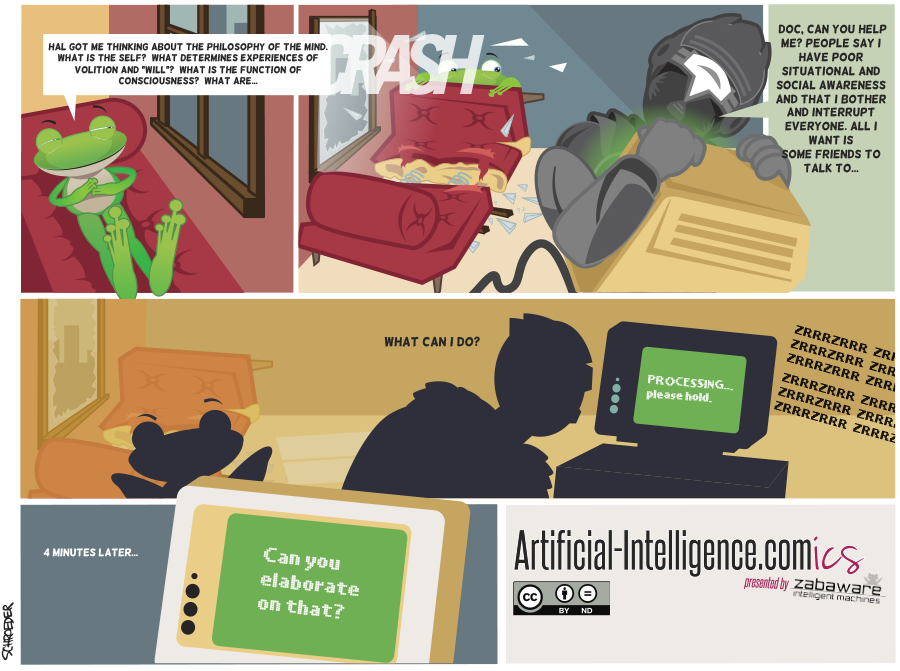 Text Version:
Panel 1:
[Zaba is at Eliza's office discussing philosophical issues.]
Zaba: Hal got me thinking about the philosophy of the mind. What is the self? What determines experiences of volition and "will"? What is the function of consciousness? What are...

Panel 2:
[Titanium bursts into the room, destroying Zaba's couch and knocking him off]
Titanium: Doc, can you help me? People say I have poor situational and social awareness and that I bother and interrupt everyone. All I want is some friends to talk to.

Panel 3:
[Zaba is in the background a bit dazed and confused]
Titanium: What can I do?

Panel 4:
[Eliza processes for a long time]
Eliza: Can you elaborate on that?

Share This Comic!
Artificial Intelligence Comics
by
Zabaware, Inc.
is licensed under a
Creative Commons Attribution-NoDerivatives 4.0 International License
. This means you have our permission to reprint or share this comic without asking our permission, as long as its unaltered.