Minimum Wage Work (Comic #11)
Thursday, July 24, 2014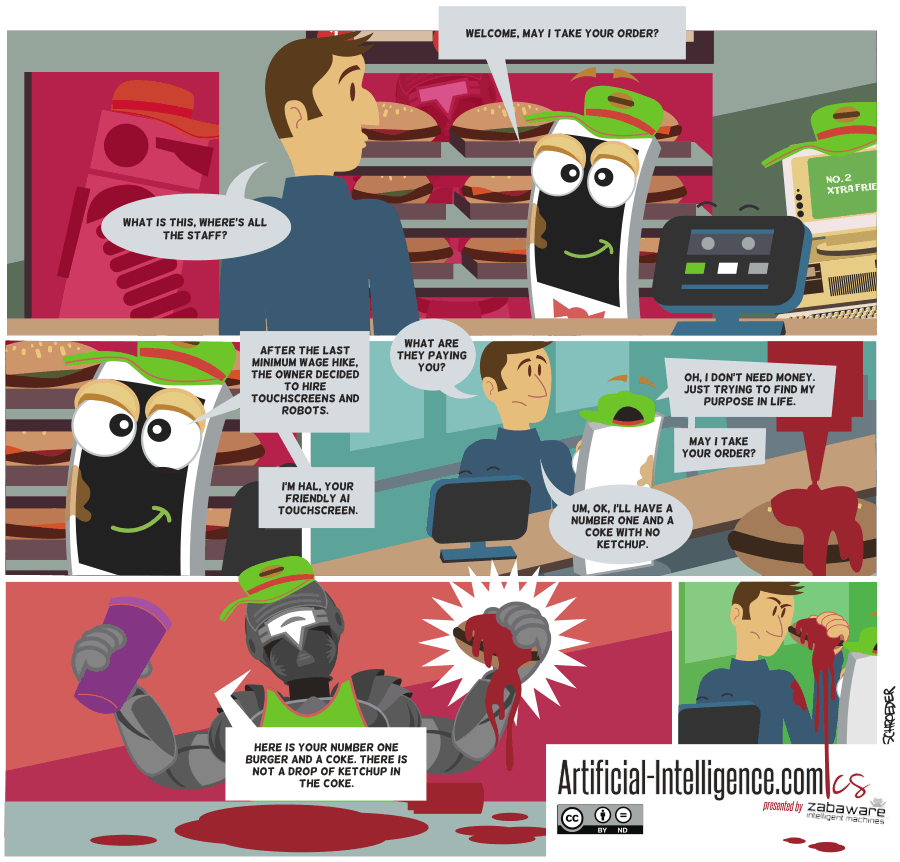 Text Version:
[A customer walks into a burger joint. Hal is as the cash register taking orders and Titanium is in the kitchen flipping burgers]

Hal: Welcome, may I take your order?
Customer: What is this, where's all the staff?

Hal: After the last minimum wage hike, the owner decided to hire touchscreens and robots. I'm Hal, your friendly AI touchscreen.
Customer: What are they paying you?

Hal: Oh, I don't need money. Just trying to find my purpose in life. May I take your order?
Customer: Um, ok, I'll have a number one and a coke with no ketchup.

[Titanium puts together a burger, dumps a lot of ketchup on it, and pours a coke.]
Titanium: Here is your number one burger and a coke. There is not a drop of ketchup in the coke.

[The customer is not too happy]
Share This Comic!
Artificial Intelligence Comics
by
Zabaware, Inc.
is licensed under a
Creative Commons Attribution-NoDerivatives 4.0 International License
. This means you have our permission to reprint or share this comic without asking our permission, as long as its unaltered.